The eyes are reflection of the heart.
Applying eye makeup
is not just putting a variety of colors, but also must be able to reflect the personality you have. Anything as beautiful as your eye makeup, but if you do not feel comfortable and confident with makeup is the look you would not be perfect. Therefore, choose the type of
eye makeup
that suits your self personality.
Shimmery Eyes
this Eye makeup is suitable for you who like to look glamorous and brilliant style. This eye makeup, in addition to using metallic powders can also be added with various beads.
- Cover your eyelids with foundation and then applied eye shadow with shades of brown.
- Edge line drawing the eyes with an eyebrow pencil to the ends of the eye to form a line of eye makeup looks like Cleopatra.
- Add the cream type eye shadow and then applied to meet the entire eye area. Make sure the shadow does not remove or cover the line of chocolates that you have previously made.
- mix with three colors, then add silver metallic eye shadow, and sprinkle the entire surface of the eyelids.
- Pinch and strengthen the lashes with mascara makeup.
Glossy Eyes
You who like to experiment and confident, eye makeup is perfect choice.
- Apply foundation on eyelids, while the pad under your eyes with a sprinkling of powder eye shadow so that the rest is easy to clean.
- Select one of your favorite eye shadow colors and then put them on.
- Pinch and strengthen lashes by applying mascara, it is intended that the mascara is not damaged when given a touch of glossy.
- As a final touch, apply eye shadow with a glossy effect.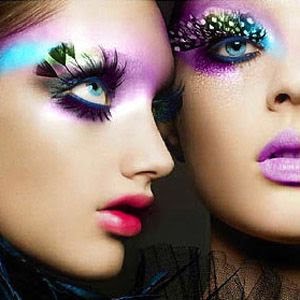 Smokey Eyes
This eye makeup is appropriate for the evening event. It looks likely sensual and teasing, you are the center of attention.
- It is applied in advance of your eyelids with a foundation and add a bit of neutral-colored eye shadow.
- Apply a black eye pencil to line your eyes, then add brown eye shadow colors.
- Rub and spread black shadow around the eyes is by using a special eraser makeup is made of rubber.
- Add eye shadow shades of gray for owners of small eyes, or use a brown color if your eyes tend to be large. Brush it around the eye line to taper the ends of the eye.
- sharpen hue of your eyes with eyelashes clamping and using mascara.
other Tips:
Avoid applying the same color on eye makeup or lipstick and clothes you wear. a slightly different makeup to give the impression of a modern and elegant.
How To Make Your Eyes Pop